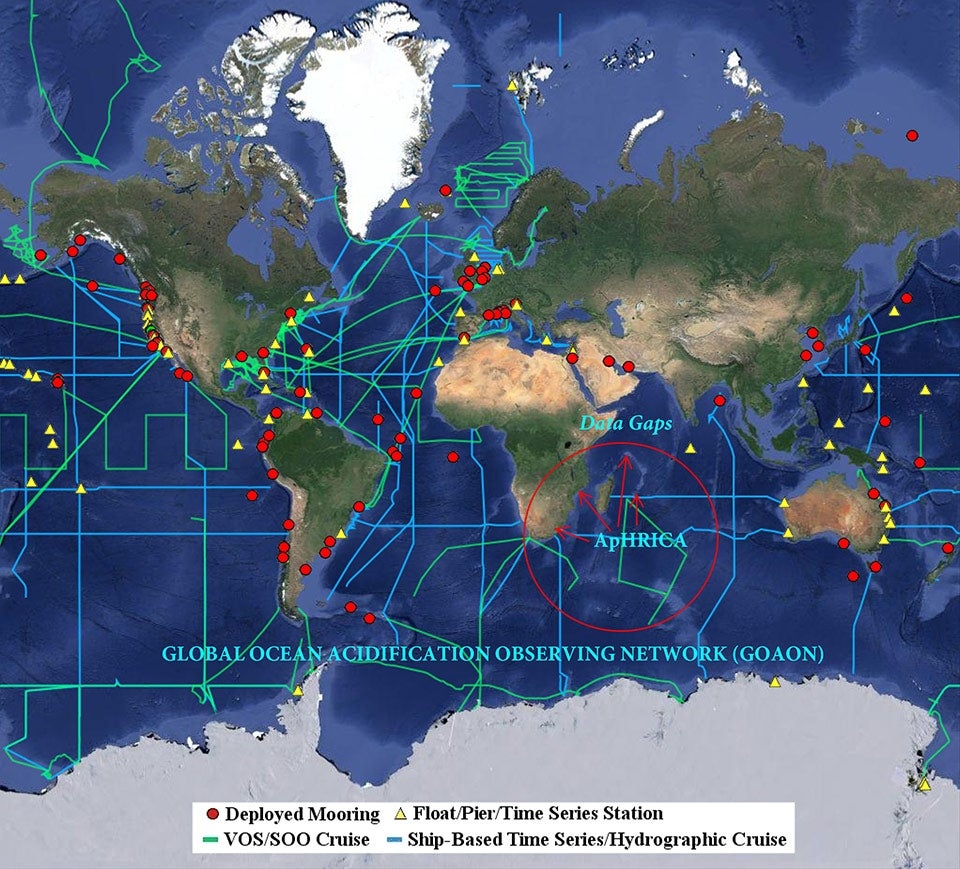 The Global Ocean Acidification Observing Network (GOAON) with approximate locations for 'ApHRICA', a pilot project to deploy ocean pH sensors in South Africa, Mozambique, the Seychelles, and Mauritius for the first time. This project is a public-private partnership to fill in gaps for ocean acidification research in East Africa involving the U.S. Department of State, the Ocean Foundation, the Heising-Simons Foundation, Schmidt Marine Technology Partners, and the XPRIZE Foundation and various research institutions.
This week kicks off a groundbreaking workshop and pilot project to install cutting-edge ocean sensors in Mauritius, Mozambique, the Seychelles and South Africa to study ocean acidification in East Africa for the first time. The project is actually called "OceAn pH Research Integration and Collaboration in Africa - ApHRICA". Workshop speakers include the White House Science Envoy for Ocean, Dr. Jane Lubchenco, Dr. Roshan Ramessur at the University of Mauritius, and ocean sensor trainers and scientists Dr. Andrew Dickson of UCSD, Dr. Sam Dupont of University of Gothenburg, and James Beck, CEO of Sunburst Sensors.
ApHRICA has been years in the making, starting with developing ocean pH sensor tools, engaging leading experts, and raising the funds to bring passionate people and new technologies together to take action, and fill much-needed ocean data gaps. Last July, XPRIZE awarded the $2 million Wendy Schmidt Ocean Health XPRIZE, a prize competition for developing breakthrough ocean pH sensors to improve understanding of ocean acidification. One year later, the winning team Sunburst Sensors, a small company in Missoula, Montana, is providing their 'iSAMI' ocean pH sensor for this project. The iSAMI was chosen due to its unprecedented affordability, accuracy and ease of use.
James Beck, CEO of Sunburst Sensors states, "Sunburst Sensors is both proud and excited to be working in this effort to expand the monitoring of ocean acidification to nations of Africa and eventually, we hope, around the globe."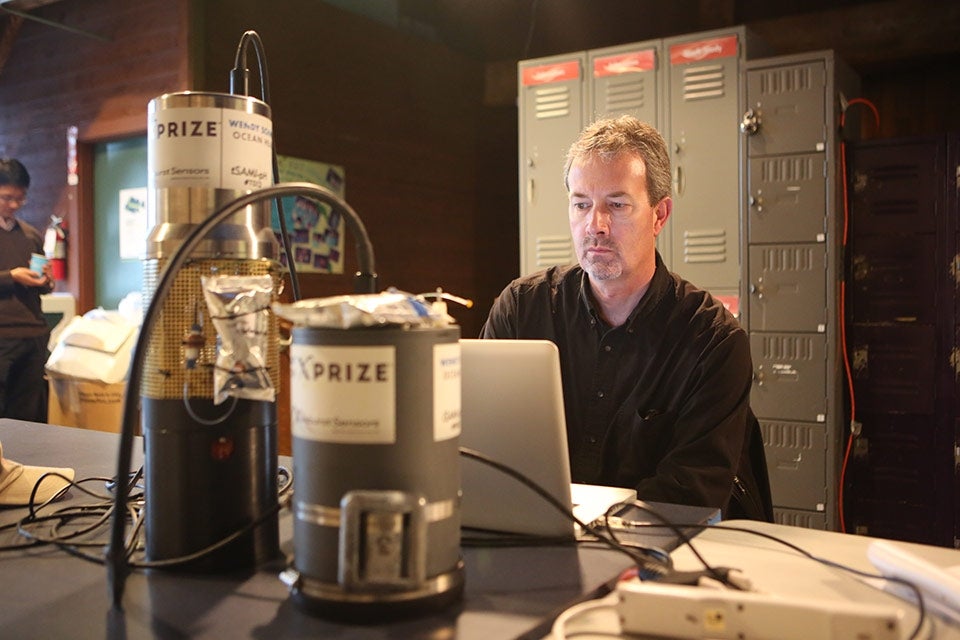 James Beck, CEO of Sunburst Sensors with the iSAMI (right) and tSAMI (left), the two winning ocean pH sensors of the $2 million Wendy Schmidt Ocean Health XPRIZE. The iSAMI is an easy-to-use, accurate and affordable ocean pH sensor, which will be deployed in ApHRICA.
The Indian Ocean is an ideal location for this pilot project not only because it has long been a notorious mystery for oceanographers, but long-term monitoring of ocean conditions is also lacking in many regions of East Africa. ApHRICA will strengthen the resiliency of coastal communities, improve oceanographic collaboration in the region, and the data will contribute significantly to the Global Ocean Acidification Observing Network (GOAON) to improve understanding and response to ocean acidification.
Mark J. Spalding, President of The Ocean Foundation, is a crucial partner on the project. Spalding says, "community food resources are being threatened by ocean acidification. This workshop is a critical step in increasing coverage for our network to forecast ocean acidification, especially in a place like East Africa that has a strong reliance on marine resources, but currently lacks the capacity to measure the status and progress of ocean acidification in the open ocean, coastal ocean and estuarine areas."
Each day, emissions from cars, planes and power plants add millions of tons of carbon into the ocean. As a result, the ocean's acidity has increased 30% since the Industrial Revolution. The rate of this ocean acidification event is likely unparalleled in Earth's history. The rapid changes in ocean acidity are causing an 'osteoporosis of the sea', increasingly harming marine life like plankton, oysters, and corals that make shells or skeletons from calcium carbonate.
Dr. Roshan Ramessur, Associate Professor of Chemistry at the University of Mauritius, who is coordinating the training workshop believes, "this is an exciting project for us because it will allow us to build capacity in our countries for monitoring and understanding ocean acidification. The new sensors will allow us to contribute to a global network; something we haven't been able to do before. This is groundbreaking because regional capacity to study this problem is foundational for ensuring our food security futures."
We know ocean acidification is a threat to marine biodiversity, coastal communities and the global economy, but we still need vital information about these changes in ocean chemistry including where it's happening, to what extent and its impacts. We need to urgently scale ocean acidification research to more countries and regions around the world from the Coral Triangle to Latin America to the Arctic. The time to act on ocean acidification is now, and ApHRICA will light a spark that makes this invaluable research grow exponentially.